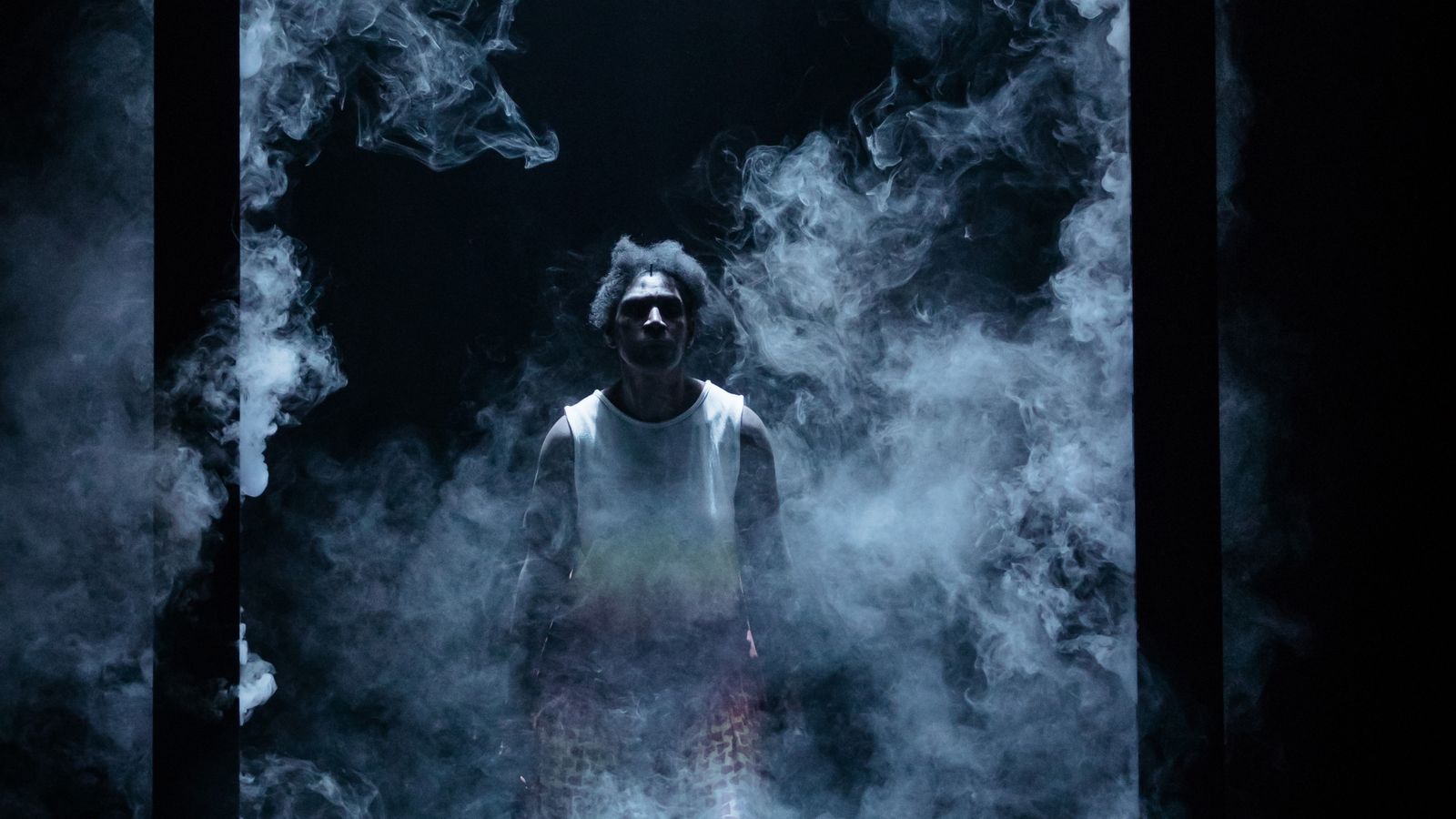 I am clay, hardened by hope, softened by dreams.
Stephen Page's remarkable artistry is fed by a stream of imagination, visions, ancestral knowledge, lived experience and experimentation. As dramaturg on Bennelong, it has been my role to funnel both information and inspiration into his already vital flow of unique insights and creative energy.
In approaching the story of Woollarawarre Bennelong, we began by acknowledging that Bennelong is a contested figure, disputed about by historians and countrymen, a revered ancestor and a person who lived and walked and fished and had a sacred, custodial relationship to the land. But Bennelong's life and his name have also become a symbol, a shorthand for a kind of interlocutory conflict, an idea onto which otherness and difference, prejudice and racism has been, and can still be, projected. There is a plethora of writing, images and opinion about this Wongal man who was snatched from the water while fishing in 1789, kept in chains in the early settlement and later travelled to England with Governor Phillip in 1792.

Stephen and I explored voices from the early colony, among them Watkin Tench's The Settlement at Port Jackson, as well as Inge Clendinnen's Dancing with Strangers, Keith Vincent Smith's Bennelong, Kate Fullagar's Bennelong in Britain, Jack Brook's The Forlorn Hope: Bennelong and Yemmerawanye go to England, Bennelong: first notable aboriginal a report by John Kenny of the Royal Australian Historical Society as well as Michael Sedunary's clever The Unlikely Story of Bennelong and Phillip.
We listened to Bennelong Sings from ABC Radio with its remarkable contribution by Muruwari man Matthew Doyle and Bundjalung man Clarence Slockee of a recreation of Bennelong and Yemmerawanye's song in 2010. We read newspaper reports about the finding of Bennelong's 'grave' in Putney on the former estate of brewer James Squire, as well as drawing on the perspectives and opinions of custodians of living Eora culture, knowledge that is communicated in spirit and bodies and language and well as English words.
Stephen's genius as a theatre maker is to understand and acknowledge and draw from the historical record, but as with so many Bangarra productions, to use it as a point of departure from which to take off into his own experience and that of his remarkable dancers. To ask questions about the frustrations, joys, compromises, griefs and survival dimensions of contemporary life for First Nations people. In this way the living dance of flesh and movement and voice and music that has become Bennelong gestures to the facts of the man Bennelong's history but has no intention to be an historical recreation and only loosely a chronology of the events of his life. Instead Bennelong is both a particular individual and a bold abstraction, a burden, a role model, a victor, a tragedy, a signpost to the future and an opportunity for contemporary ritual and ceremony.
As well as the work of historians and others, I sometimes send Stephen information as poems. They are a way to infuse his day and his work with beauty, and artistry as well as brevity. Intended only for his eyes, I have been intrigued that some of them became useful tools for Stephen to work with Steve Francis on the music and inspire sections of the narrative. They have been taken by Steve and the dancers and made their own – sieved through the bodies and voices of a living culture – claimed and changed, just as Stephen has done by transforming the historical Bennelong and conjuring him to life, to breath, to honour in this landmark new dance theatre work for 2017.
Alana Valentine
Dramaturg
She liked the smell of campfire smoke and fanned it toward herself with rolling fingers
Her body had a perfume all its own She made fish hooks out of shell
She wrapped her babies in the softest paperbark When her body was burned it produced black smoke
Her tears were salty and ran into her mouth
Her smile was like a long line cast into deep green water
Alana Valentine