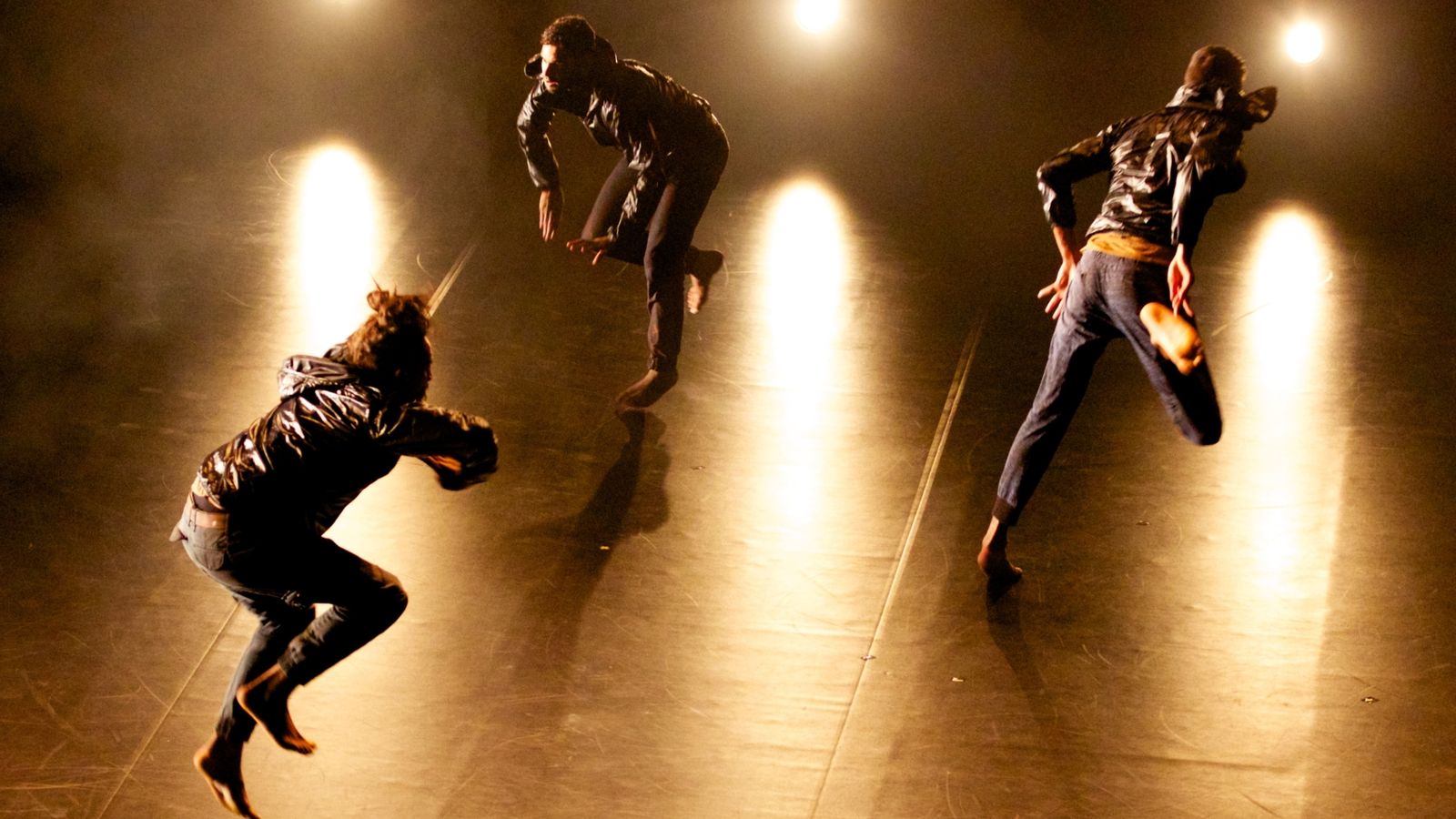 I got to thinking about where we stand, within our contemporary Indigenous community. Are we seen as men, or boys?
The idea for this work began as a personal journey and questioning of myself. Do I consider myself a man? Having been with Bangarra for the last seven years, and having explored all different areas and stages of Indigenous male culture onstage, I began to question my own status. Having felt like I was moving into the early stages of this illustrious club of 'manhood' I got to thinking about where we stand, within our contemporary Indigenous community. Are we seen as men, or boys?
On this choreographic journey and over my time at Bangarra I have been fortunate to know, and to share the stage with, Djakapurra Munyarryun, one of Bangarra's long time collaborators and cultural consultants. Through my relationship with Djakapurra and numerous trips to his homeland Dhalinybuy in NE Arnhem Land, I have learnt about rites of passage and what transitions a boy, living 'on Country', into being a man in the eyes of his community and kin. These rites of passage and initiation ceremonies are a continued living practise throughout Indigenous Australia. In varying degrees of ritual depth, these practises strengthen, educate, empower and give rise to the new generations coming through. But what about the boys and men living an urban life?
We, as a dance clan, questioned when this transition to manhood would happen for us or if it had already happened. What responsibilities do you embrace as opposed to shy away from?
HOW DO YOU INTERACT AT THAT YOUNG AGE WHEN YOU ARE SEARCHING FOR SOMETHING OR SOMEONE TO MAKE SENSE OF WHAT YOUR JOURNEY IS?
These discussions usually came around to an idea that manhood is a collection of moments that we gather and carry with us everyday.
The gritty, dirty and grimy energy of contemporary men's business and the sacredness of the initiation ceremony were my main driving themes of Scar. Throughout the creative process, we questioned ourselves and explored our own journeys and what it takes to overcome the struggles of becoming a man in the 21st century.
What I have relished most is witnessing the men find this physicality for themselves and letting them take control. I was fortunate to be given such a strong male cast to create with, all of whom have been so open with sharing their personal perspectives and experiences. I have thoroughly enjoyed collaborating with and directing them. Having Hunter Page-Lochard share the rehearsal room and stage with us has brought an entirely different physicality and mindset to the process and I feel as though we have all moved further into manhood together, as a strong contemporary group of Indigenous men. As an all-male work, Scar is full of strength, testosterone and the vulnerable underbelly of the journey into manhood.
I would like to dedicate this work to my cultural brothers: Waan, Len, Kaine, Luke, Beau and Hunter. Without their energy, spirit, open hearts, minds and honesty we could not have achieved Scar.
Daniel Riley McKinley
Choreographer
Daniel is a Wiradjuri man from Western NSW. He joined Bangarra is 2007 after graduating from Queensland University of Technology. Through his 12 years with Bangarra, he worked as a dancer and contributed to the company's repertoire as a choreographer on four occasions (Riley, Blak, Miyagan, Dark Emu). He left the organisation as a Senior Artist in 2018.