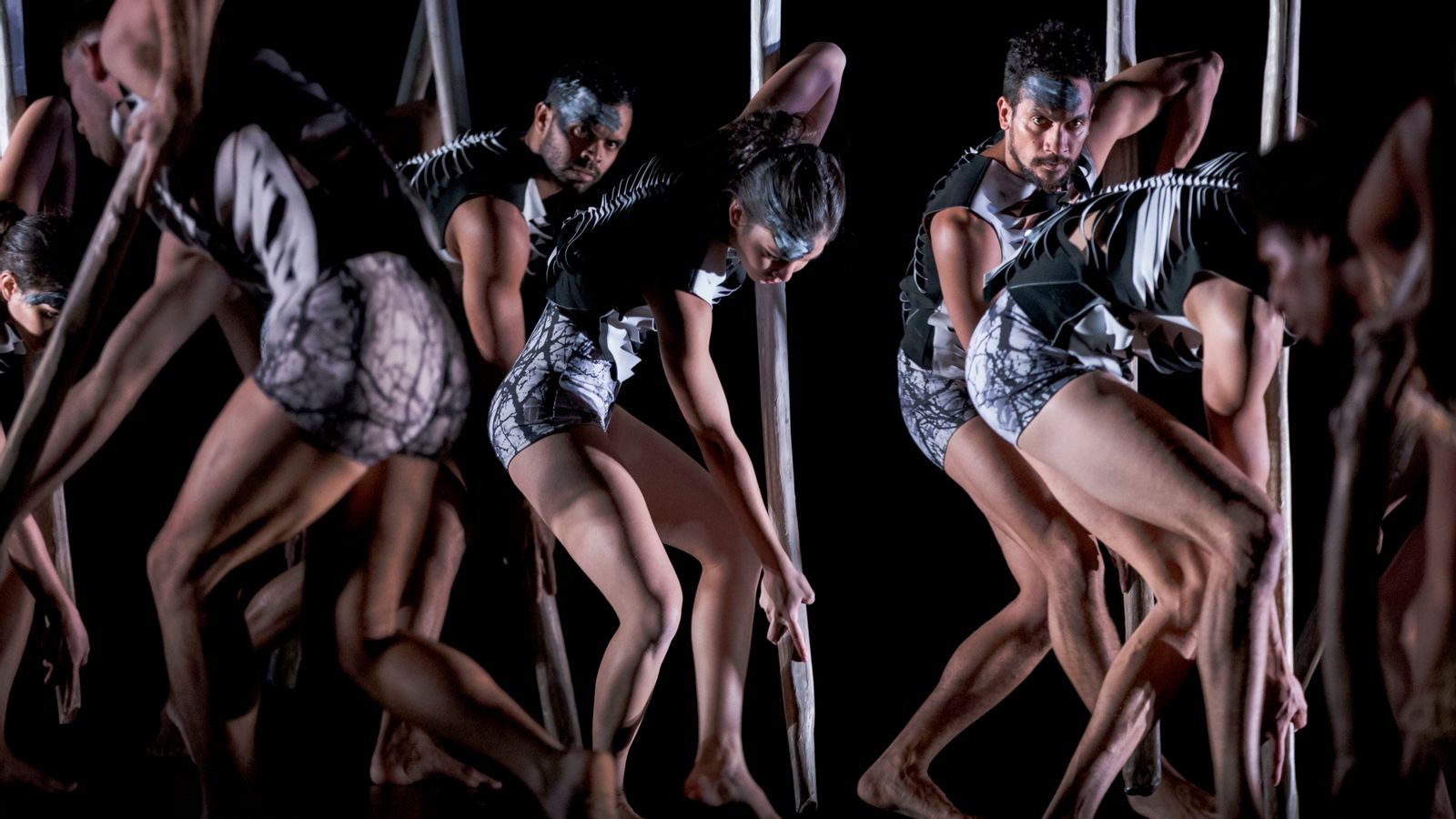 It's nature and land that enriches me, and will always be a cornerstone in my life and work.
Sheoak is a work that embodies many things. Not only is the tree itself symbolic, from providing tools, medicine, food, and shelter, I also wanted it to symbolise our stories –stories of the dancers, of the creatives, of the history of the company, of our people. After 25 years of telling other people's stories, it's time to share our contemporary Indigenous experiences.
Land, country, culture will always be an inspiration for me.
Just as the Sheoak tree and many of our fauna and flora are endangered, so too are our Indigenous languages, customs and lore. Sheoak represents the threat to our culture but also the incredible fight we have within us to protect it.
Sheoak also represents the significance of features in our environment like scar trees, sites, waterholes –while today's use of them might be long past to us, they represent a connection to our ancestors and Elders. Those ties are strong even though we may not live that lifestyle any more and live a contemporary Indigenous life, those things remain relevant and hold a strong place in our identity. They are within us. They give us a sense of strength and spiritual awakening. They ground us and keep us connected to something that transcends our modern life, and bound us to our birthright.
I was fortunate to grow up in the country, and having that experience was really important to my sense of self. I still don't live in the city or feel like a city person. I like to be near strong elements, like water, bushland and ocean. There are so many distractions in the city, I feel like we're all over stimulated. It's nature and land that enriches me, and will always be a cornerstone in my life and work.
Being a dancer, it never leaves you. Creatively, I walk into a studio and it's like a song in my body. I can't help but be affected by it. It charges my cells and I inhale it and become full of it. I would be a shell of a person if I didn't have dance in my life.
I'm grateful to be creating my seventh work for Bangarra, and excited to be working with a new generation of dancers. They have all been chosen because they bring something that is a vision for the future – young people make us look at ourselves in a new light, and they help me rewrite the stories. Thank you all for your generosity and for opening your hearts to me.
I've worked with an exceptional creative team. Bangarra is a place where you work with other collaborators and you acknowledge the lineage that has been before us and honour that. It's also a place where you're not afraid to push the boundaries and discover new parameters to your artistic practice.
Thank you to Stephen Page for the opportunity to create and tell stories, and for his trust and guidance. Under his leadership, we feel not only nurtured and supported, but ready to create works that inspire, provoke and redefine what it means to be Indigenous in today's world.
This is the first work where I have started with the design concept first. It was important to find the right design to embody the idea of the Sheoak and its relationshipto Place, Body and Spirit. Jacob Nash has delivered an incredible design that has challenged the way we physicalise our connection to the natural world. Thank you Jake for the many hours spent unraveling this beautiful work.
I have so much love and respect for David Page who has composed the music. He is a genius in the studio and helped me realise the Sheoak world and its many nuances.
Jennifer Irwin and Karen Norris both listened to my original concept and came back tothe table with their ideas and incredible vision for this work and I feel like we wrote this story together.
A big thank you and acknowledgment to the amazing work of our production team and our Rehearsal Director Emily Amisano.
Finally to my family Scott, Yillen and Zef. You illuminate my life and I thank you for your support and love. This work is also dedicated to my darling mother, Caroline Joan Edwards.
You're here tonight to listen, to see. We don't speak one language, we speak many. We are not one thing, we are many. That's our survival, our adaptation. We're not afraid to evolve.
There are many hands on the pen that has written this story, and I thank them all.
Frances Rings
Choreographer