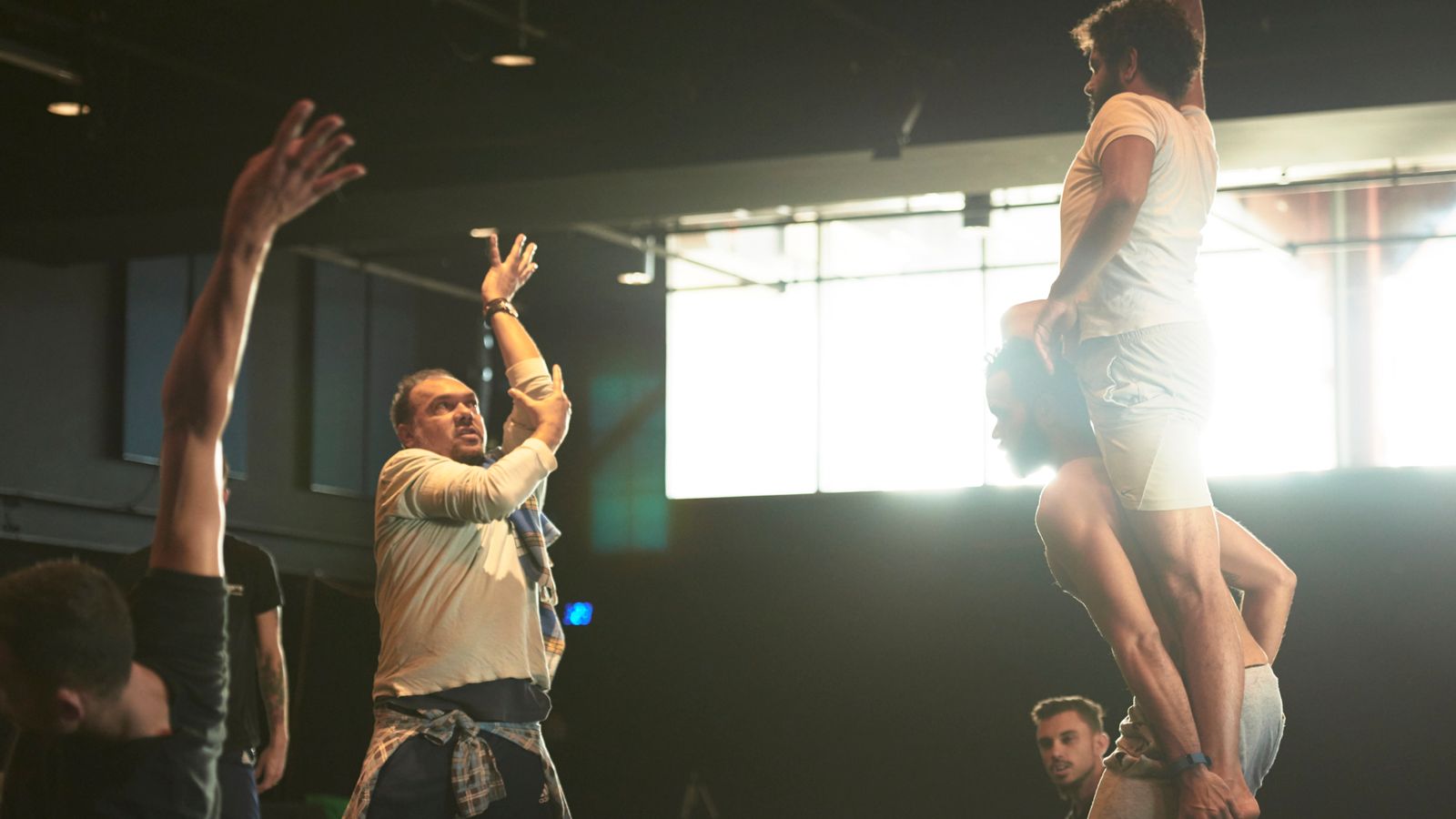 Nyapanyapa Yunupingu is an inspiration. She is a proud Yolngu woman from the Gumatj clan of North East Arnhem Land, a strong figure in her community who creates her art simply because it's in her blood.
Painting for her is a meditative process – a place of reflection, embedded in her life and history. It reminds me of why I started dancing as a young man – because I had to, because it was my calling, and because it took me to a safe and spiritual place. Stepping into the studio, hearing that unmistakable Bangarra music, seeing the dance ensemble barefoot and low to the ground and creating dance stories is my sacred space.
Nyapanyapa [Yunupingu] is so innately talented that her works give endless joy to those who see them. Each time I visit Yirrkala, I've always felt drawn to her energy, her spirit. I've long admired her paintings and her last series featuring young dancing girls fascinated me and sparked the idea for a creative exchange. But it is her Buffalo Story painting, which won her the prestigious Telstra Art prize in 2008, that was a jumping off point for this work.
I feel privileged to be celebrating 25 years as Artistic Director of Bangarra. The dance ensemble, with their passion, commitment and cultural integrity, are artists of a calibre of their own. Together we have our own collaborative creative process; the dancers join me in the creation of the choreography, bringing their energy, style and passion to the story. Working alongside the next generation of storytellers invigorates and inspires me, and I'm honoured to share this program with three extremely talented young choreographers in Jasmin, Beau and Dan. A special thank you to our rehearsal director Anton, who always looks after us holistically in mind, body and spirit during this process. I'd also like to recognise the creative team behind this work. Our Head of Design Jacob Nash travelled to Yirrkala multiple times to observe Nyapanyapa and her work, and his creative realisation of her paintings is extraordinary. We spent hours together in the gallery and his passion for the work in turn drove mine.
I've worked alongside costume designer Jennifer Irwin for many years, and she is one of the best in the world at what she does. Thank you also to Matt Cox for his innovative lighting, which has served to illuminate this work so well.Thank you to Steve Francis, who having worked alongside my brother David for many years, knows the Bangarra musical language and is able to reinvent it in the most original of ways.
Thank you to Nyapanyapa for the incredible artistic gifts which she shares so freely with the world, and to Will Stubbs, coordinator at Buku-Larrnggay Mulka Centre in Yirrkala where Nyapanyapa creates her works; he was invaluable in helping bring this work to the stage.
Dance is medicine, and as we dance as a family, we honour the exceptional legacy left by my big brother, David. There was no-one who explored bringing contemporary and traditional music together before him, and his music would travel into your mind and your soul. You cannot take away the music from a Bangarra experience; it's what brings the spirit of our stories closer.
This national tour is dedicated to him.