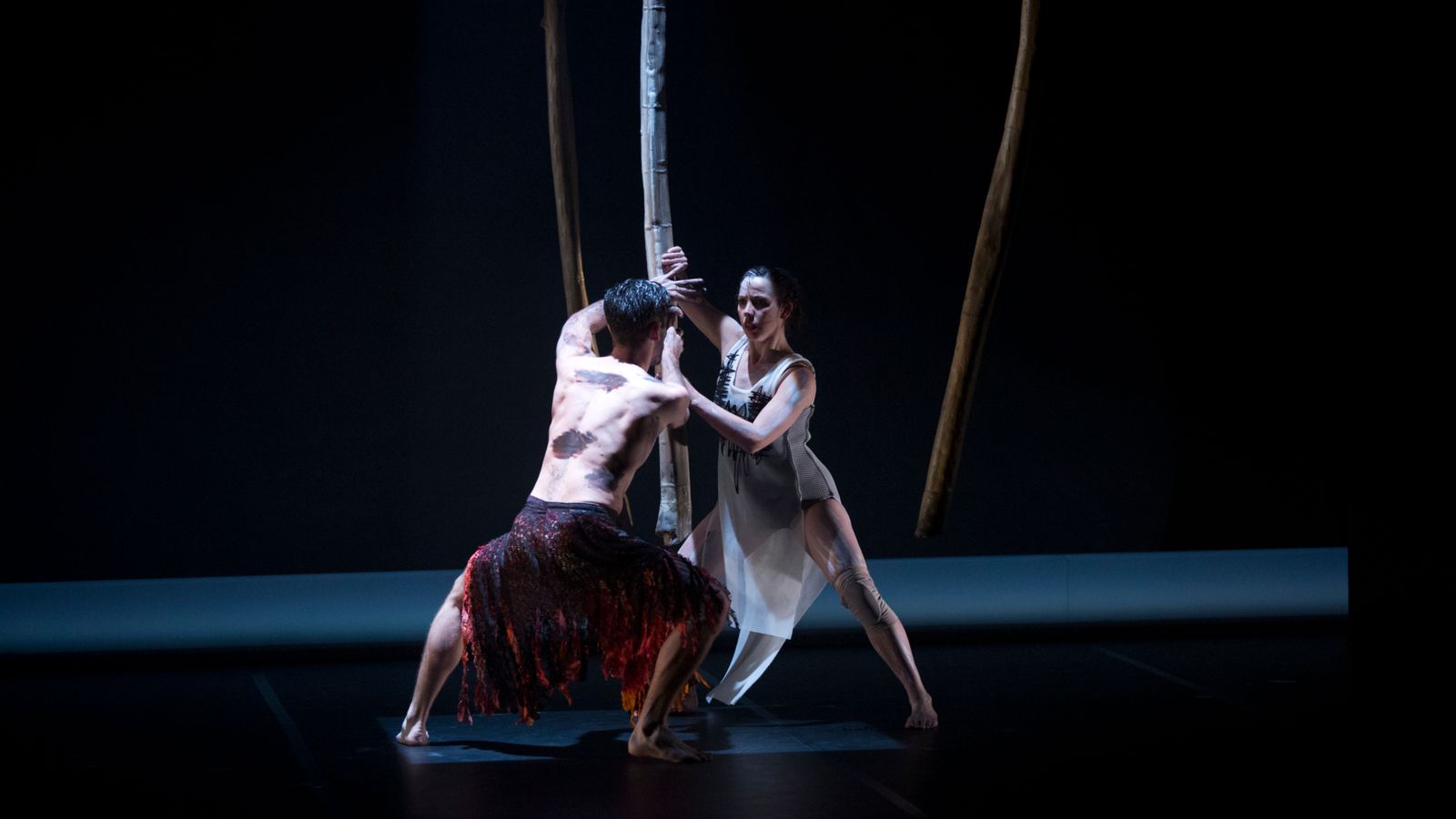 There's this surge of passion at the moment for our artists to tell their own stories from their own backyards.
Our three choreographers are familiar names to the Bangarra family – Frances Rings, Waangenga Blanco and Deborah Brown – and the latter two are making the transition from dancer to choreographer with their mainstage debut for the company, I.B.I.S.
Waangenga and Deborah are our senior Torres Strait Island dancers, and their piece is about life on the islands and capturing that region's unique style of movement. Waangenga and Deborah have a great chemistry on stage and it has flowed on to their rapport in the studio.
It's wonderful to have Frances back creating her distinctive, poetic, contemporary choreography on our dancers with her seventh work for Bangarra, Sheoak.
Following on from her last Bangarra work Terrain (2012), Sheoak is a story informed by her connection to the land. Fran spoke to me about the depth and the symbolism of the Sheoak tree, and its relation to our kinship system and the passing of knowledge from generation to generation. This concept is at the heart of Bangarra's philosophy and it feels like the right time to tell this story.
Having an established choreographer like Fran alongside two fresh voices such as Waangenga and Deborah is a positive and healthy sign for the future. There's this surge of passion at the moment for our artists to tell their own stories from their own backyards. We have a culture and heritage that is so strong and inspiring, and we share this through dance.
I'd like to thank our Cultural Consultants for their generosity: Peggy Misi, Mark William Satrick, Pinau Ghee and Betty Tekahika (Mabo). Our cultural partnerships are instrumental, they ensure we preserve and pass on these traditions and dances to the next generation of storytellers. Pinau is a founding member of Bangarra who performed in the very first season of Ochres in 1994, so to have him back in the studio teaching his traditional Torres Strait Island dances to the company of 2015 shows how that knowledge does a full circle. We caretake and preserve this knowledge for teaching and learning.
I'd like to acknowledge and thank our Rehearsal Director Emily Amisano. She has been so supportive to myself, Fran, Waangenga, Deborah and to our dancers throughout this process.
Thank you to our dancers – their passion for sharing our stories and their dedication for the company are so inspiring to our creative energy. At every performance throughout the year, they bring our spirited storytelling to life in theatres with such strong physicality.
Thank you to my brother David, whose music is the heartbeat of Bangarra's storytelling. He has a rare and extraordinary talent that allows him to create beautiful scores year after year. We're fortunate to have many gifted creatives working on lore – Head Designer Jacob Nash, Composer Steve Francis, Costume Designer Jennifer Irwin and Lighting Designer Karen Norris – and I thank them for bringing their spirit to this production.
Thank you to our Production and Management team, who work tirelessly behind the scenes to bring these stories to the stage. I'd also like to acknowledge the Bangarra Board for their vital support, and our Chair Michael McDaniel and Executive Director Philippe Magid, who are both so passionate about the company and ensuring we continue to thrive.
lore to me is about generations: Sheoak is a symbol of past, present and future, where knowledge is passed on from old to young and I.B.I.S is a celebration of the Torres Strait Islands' people, land and its future.
That's the fluidity of the spirit of Bangarra, we're constantly passing on from the old to young. It's our foundation song.
Enjoy!
Stephen Page
Artistic Director